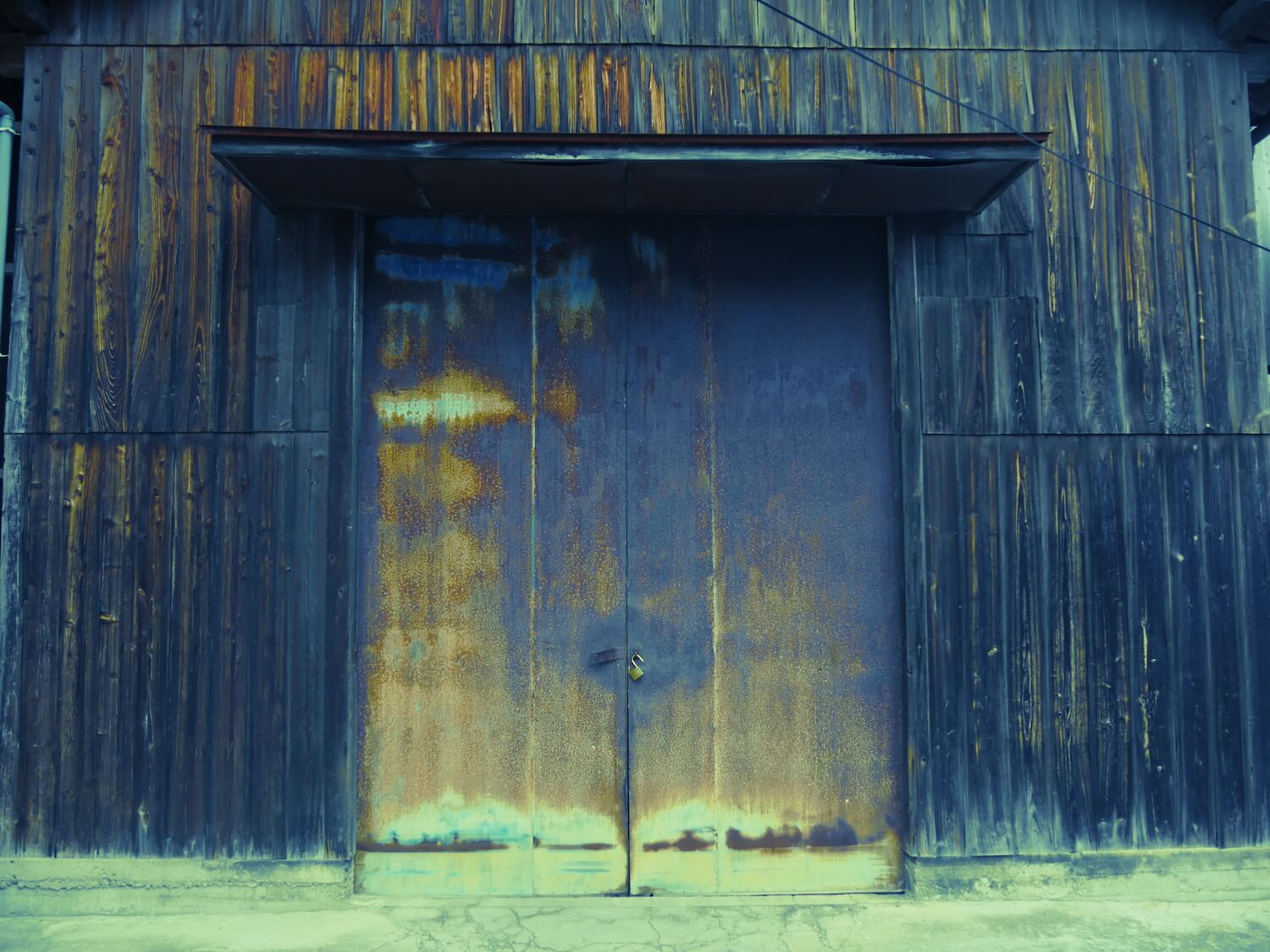 Behind this door sits a wooden barrel traditionally used for sake-making
伝統的に使われてきた木桶が置かれている蔵
Forgotten traditions that nearly became extinct during industrialisation and modernisation can sometimes result in great innovation. One example of this is evident in sake-brewing. "Kimoto used to be common in Japanese breweries but was forgotten when the process became standardised for stable production during industrialisation," says Ryoma Yamaguchi, a sake-brewer who works for Wakabayashi Shuzo, a local sake brewery.
Wakabayashi Shuzo has been operating since 1872. Since then, they have been continuously upgrading and modernising their sake-making processes. But now they are re-evaluating the old processes. A few years ago, they decided to test kimoto. This is an old-school fermentation process that does not use lactic acid bacterium to accelerate fermentation. Instead, they wait about thirty days and let lactic acid bacterium emerge naturally during the fermentation process. "Today, people are looking for a more unique and original taste. That is why we are going back to kimoto," Ryoma explained.
The brewery also has a membership community of sake lovers called Goro-no-kai. Members pay annual membership fees to participate in the entire sake-making process, right from the planting and harvesting of the rice. A special kind of rice is used to make an exclusive brand of sake called Kamegoro. Kamegoro bottles are only sold to members. Local bars and ryokans are proud members and serve Kamegoro to their guests while residents also enjoy it on special occasions.
工業化や近代化の流れで忘れ去られ、失われかけた伝統が、時に素晴らしいイノベーションにつながることがある。酒造りはそのいい例だ。「生酛造りは、昔は日本の酒蔵では一般的な手法でした。しかし工業化に伴い、安定した生産を目的とした標準化が求められる中、いつのまにか忘れられてしまった」。温泉津にある若林酒造で日本酒の製造を手がける山口竜馬さんはこう説明する。
若林酒造は1872年創業。その後、日本酒造りの改良や近代化を進めてきた。しかし、今、彼らは過去のやり方を見直している。そして数年前、実験的に生酛造りを始めた。生酛造りとは、発酵スピードを促す乳酸菌を追加するかわりに、30日間の時間をかけて、乳酸菌を自然発生させる昔ながらの製法だ。「最近の人たちは、変わったもの、オリジナルの味を求めています。だからこそ生酛造りを復活されたのです」と竜馬さんは言う。
若林酒造には、「五郎の会」という会員制のコミュニティがある。会員は年会費を払って、田植や収穫といった米作りから始まる酒造りに参加することができる。亀五郎という特別な名前がついた限定の酒には、そのために作られた米が使われる。亀五郎の酒は会員のみが購入可能だ。地元のバーや旅館も会員となって、亀五郎を客にふるまう。地元の住人たちも会員となり、特別な機会に楽しんでいる。
Text by Maki Nakata
Photography by Edward Hames